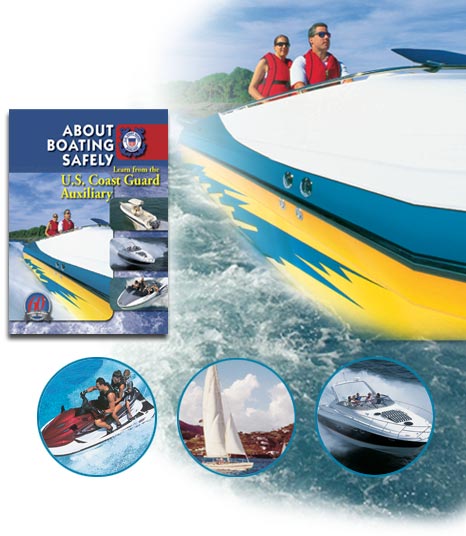 ABOUT BOATING SAFETY CLASS
Come and join us for a one day Safe Boating Class.
APRIL 26, 2015.
for power boats, sailboats
& personal watercraft.
Taught by U.S.C.G. Auxiliary Flotilla 24-01, Branford, Connecticut
Date: SUNDAY, APRIL 26, 2015
Time: 8 a.m. sharp to approx. 6 p.m.
Place: Flotilla 24-01 Training Center, 99 Indian Neck Ave., Branford
(building shared w/VFW)
Cost: $65 per person (includes lunch, Danish, coffe, soda and snacks for the day)
Registration: Pre-registration is required. No walk-ins without registration.
Course includes all materials needed to attend, complete and test for the state license.
Certificates for passing scores will be delivered after test is complete.

Download the registration form, complete it in full and mail with check for $65 per person, made payable to
Branford Flotilla 17-01 Inc., to:
Branford Flotilla 17-01, Inc.
c/o Norman Dahl, DDS
46 Park Place, Suite A
Branford CT 06405
For more information, contact Mark Haines, Public Education Offir,
at 203-488-5349 or by email at boater1701@comcast.net
This course is required by the state of Connecticut to obtain your Stateonal Watercraft Operation.
Note also that to register for classes will also require that you sign up for a State DEP number. Instructions on how to register will be included shortly. For those who already have a State Hunting or Fishing license, it will be on the same website and your number will remain the same.
If you would like to be put on a list to be contacted when the new class dates are posted, please call the base at
203-488-5349 and leave a message with your Name, Address, and Phone Number, or send an email to our FSO-PE Mark Haines at boater1701@comcast.net.
If you need the class to get your State certificate,
then CLICK HERE. Fill out the application and send it in.

Branford Flotilla 17-01
c/o Norman Dahl, DDS
46 Park Place, Suite A
Branford, CT., 06405
There are no age restrictions.
This course include all study materials and a CD of the entire course for future reference and home study.
The state of Connecticut requires 8 hours of classroom instruction and a proctored exam to issue a boating certificate.
WE CAN NOT GIVE YOU THE EXAM IF YOU DO NOT TAKE THE 8 HOUR COURSE.

CALL 203-488-5349
Call 203-488-5349 and leave a message. Please include your name, telephone number and an address to send the application or print one yourself by clicking above. You may also email our
FSO-PE MARK HAINES