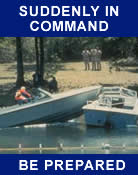 SUDDENLY IN COMMAND

Come and join us for a one day Class.

CHECK BACK FOR DATES

We know it's hard to think about a Boating Safety Class
in the Fall or Winter. If you want the class to get more involved in your boating experience,
then CLICK HERE. Fill out the application and send it in.

Branford Coast Guard Auxiliary Base
Thimble Island Rd. – Stony Creek, CT

(DIRECTIONS)

Class, Exam and Graduation all in one day !!!!

The class starts at 7 PM and runs to 9 PM. The cost is 25.00 per person. There are no age restrictions.

You MUST pre-register. NO walk ins will be accepted the day of the class.

This course include all study materials of the entire course for future reference and home study.

The state of Connecticut requires 8 hours of classroom instruction and a proctored exam to issue a boating certificate. THIS COURSE DOES NOT FULFILL THAT REQUIREMENT. If you need a boating certificate you need to take the BOATING SAFELY course.

CALL 203-488-5349
Call 203-488-5349 and leave a message. Please include your name, telephone number and an address to send the application or print one yourself by clicking above. You may also email our
FSO-PE MARK HAINES